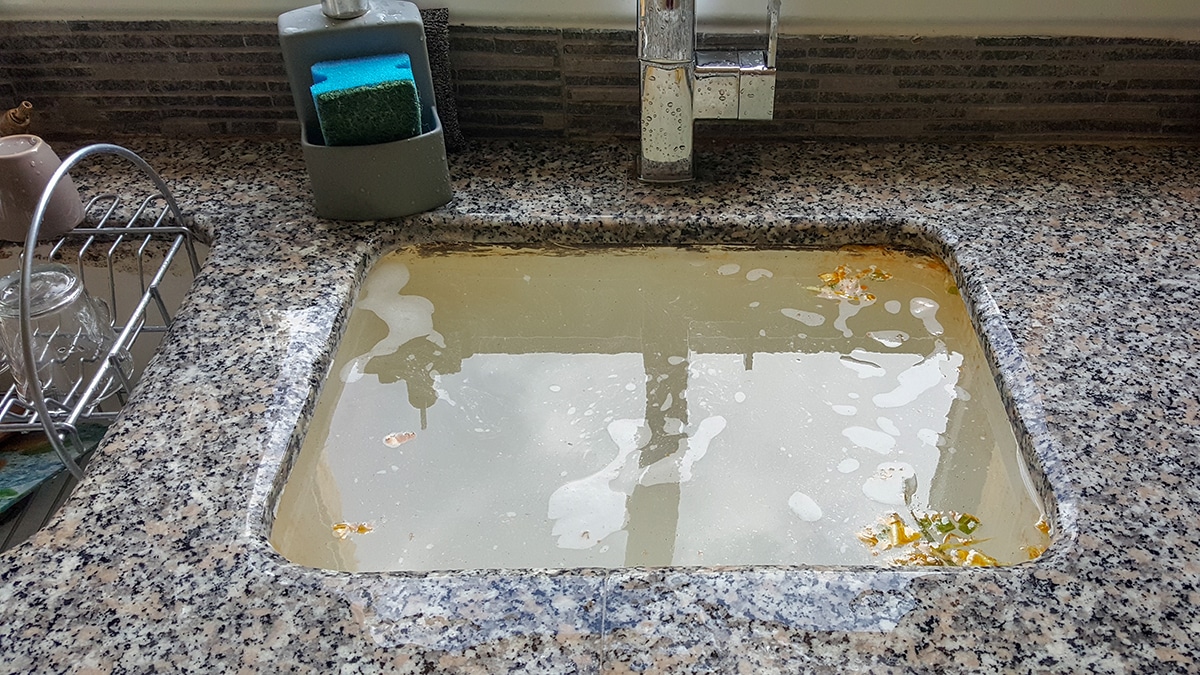 If your kitchen sink is not draining like it's supposed to, the problem could be any number of things, from a small grease clog to a piece of food or debris wedged in the pipe. Luckily, most kitchen clogs are completely correctable out without much fuss. Here are eight ways you can unclog any kitchen sink and avoid burst pipes and other unnecessary plumbing damage with ease!
Plunging
You've likely used a plunger or two in your day to unclog toilets, but specially made cup plungers are for plunging sink drains. The process is roughly the same. Remove excess water, submerge plunger head and cover drain, and plunge away. The only real difference is that if you have a dishwasher or a double sink, you may want to clamp the hose or remove the hose and cover the pipe/disposal inlet or seal the other drain, to prevent backflow.
Boiling Water
Boiling water is an effective method for unclogging kitchen sicks, especially if it's a grease clog. Grease, sugar, and various oils and fats all melt with heat, which means steadily pouring rapidly boiling water directly down the drain can essentially melt away clogs and dislodge debris. Best of all, this method is so safe you can use it as often or as many times in a row as you need to remove and prevent clogs. Just make sure to remove any standing water before adding the boiling water.
Check Garbage Disposal
Gross garbage disposals are often to blame for perceived clogs. If you think this is the case for you, simply turn on your hot water tap and let your disposal run for a minute or two and see if that helps break up the clog. If your disposal overheats, shuts off, or doesn't turn on correctly, don't panic. Reset the system using the reset switch located on the unit. Once the clog is broken down and washed away, your drains should flow normally again.
Baking Soda & Vinegar
If you're looking to clean and deodorize, baking soda and vinegar is a classic drain cleaning solution, an alternative to chemical drain cleaners, with a satisfying outcome. So long as there is no standing water to dilute the solution, all you need to do is pour one cup of regular baking soda directly into your drain followed by a cup of white vinegar. As you slowly pour the vinegar down the drain, you will hear an immediate fizzle and may see white foam bubbling up. Leave this solution to sit for 15-30 minutes, then rinse the sink and drain with very hot water.
Salt Solutions
If you don't have everything you need for a baking soda and vinegar solution, but you have salt, you can alter your solution using what you have. You can mix half a cup of salt with one cup of baking soda, pour directly down your drain, let sit for several hours, then rinse with boiling water for an exfoliating clean. Or pour half a cup of plain table salt down your drain followed immediately by boiling water, let it sit for several minutes, then flush out with more boiling water. You can use either solution as many times as you need.
Wet/Dry Vacuum
If you have access to a wet/dry vacuum, you may be able to use it to clear away a kitchen clog if it's not too deep. Refer to the manufacturer/user instructions to get your vacuum ready, place the hose in the drain, create a tight seal, plug up other attached drains, and the pressure build-up should do the rest.
Coat Hanger Method
If you believe your clog is close to the surface and you don't have a drain snake, a regular coat hanger typically works the same way. It may not be as flexible or long, but when straightened out, a coat hanger can give you a bit more reach to fish out or dislodge whatever is obstructing your pipes. Just be careful not to scratch your pipes with the metal wire.
Clean P-Trap
Your P-trap is a curved section of piping located directly below your sink that can become clogged easily due to its shape. To remove blockages in your P-trap, simply put a bucket underneath it to catch whatever water/debris escapes, unscrew that section of piping, remove it, clean it out, and put it back. Just make sure you have a tight seal.
Preventing kitchen clogs is the best way to avoid them, but it's not always possible. Sometimes clogs can become such a problem that not even the methods mentioned above can help. When that happens, remember our professional drain cleaning services at ROOT-A-WAY Drain Cleaning are here for you. If your kitchen sink clog is more than you can handle, reach out to our expert plumbing professionals at ROOT-A-WAY Drain Cleaning by calling (810) 233-4376 to schedule service, or simply fill out the form in the sidebar.