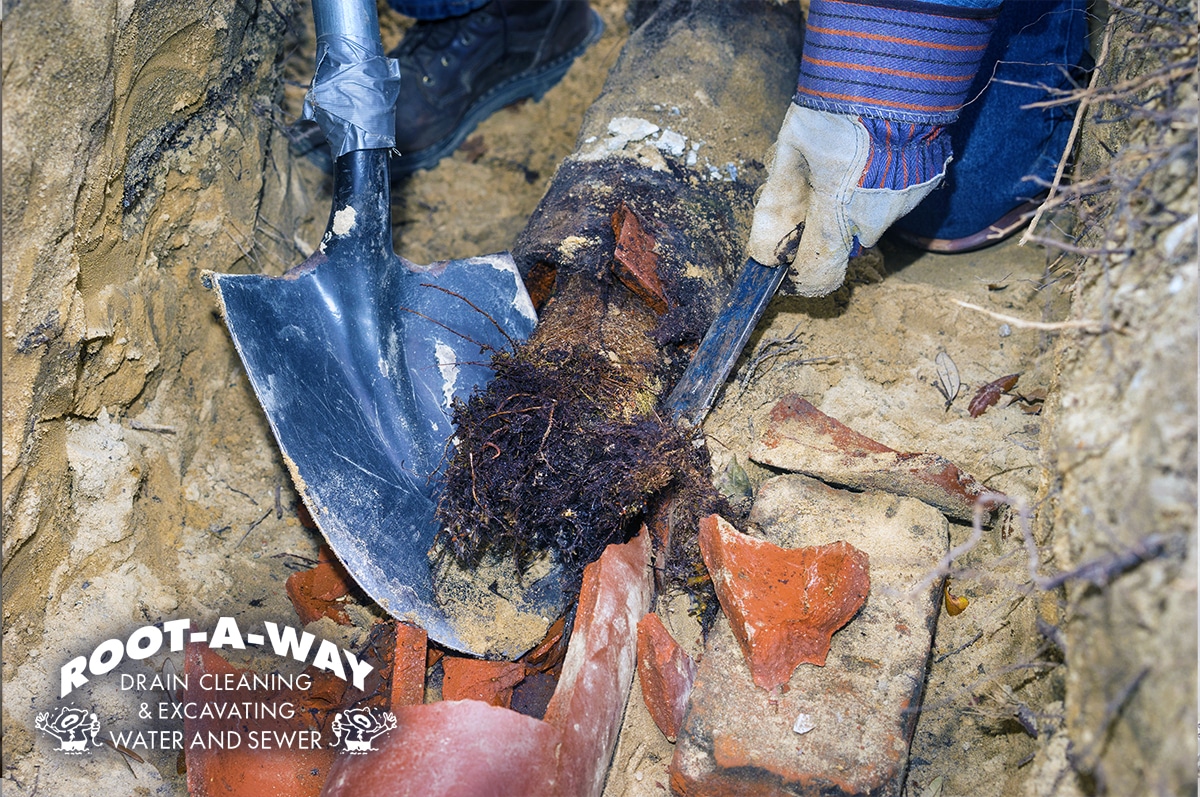 Complications within your sewer line are no joke. If you're not proactive enough, real damage can set in, leading to leaks, property damage, contamination, and more. So, how do you tell if you have tree roots in your sewer line, and how do you get rid of any you find? ROOT-A-WAY Drain Cleaning has your answers!
How To Tell If You Have Tree Roots In Your Sewer Line
Identifying whether or not you have tree roots in your sewer line is often as easy as simply watching out for the common signs. You might notice what look like sinkholes around your yard, feel soft spots around your property, see your trees and other plants growing faster and greener than others, have slow drains, hear gurgling noises coming from your toilet, experience some toxic backflow, or smell some seriously bad odors near your drains and fixtures. The key to resolving these problems and ridding your sewer lines of invasive tree roots is acting fast. The sooner you seek out a solution, the easier and more cost-effective that solution will likely be.
How To Get Rid Of Tree Roots In Your Sewer Line
If you're insistent on trying everything you can to resolve the problem on your own before you're willing to contact our pros at ROOT-A-WAY Drain Cleaning, there are some safe ways to try and eliminate tree roots in your sewer lines without the use of harsh, harmful chemicals. One of the most popular is rock salt. Slowly and carefully flushing a few pounds of rock salt down your toilet and then not running any water for at least 12 hours can help dehydrate and kill off any roots that have made their way into your sewer line. Another similar solution is to use a store-bought foaming root killer. Flushing this powder down your toilet will have a similar effect and may also help prevent future growth. You may also have heard of using copper sulfate to get rid of tree roots, but we warn you this particular substance can be dangerous to pets and is even illegal in some regions. Therefore, we advise using extreme caution with copper sulfate.
Still Having Trouble? Call ROOT-A-WAY Drain Cleaning Today!
Want to ensure your sewer line never faces such an infestation? Contact our sewer and drain cleaning specialists at ROOT-A-WAY Drain Cleaning today. We can schedule you for all the inspections and cleanings you'll need throughout the year to keep your home or business in excellent shape! Reach out to us today by calling (810) 233-4376 to schedule service, or simply fill out the form in the sidebar.