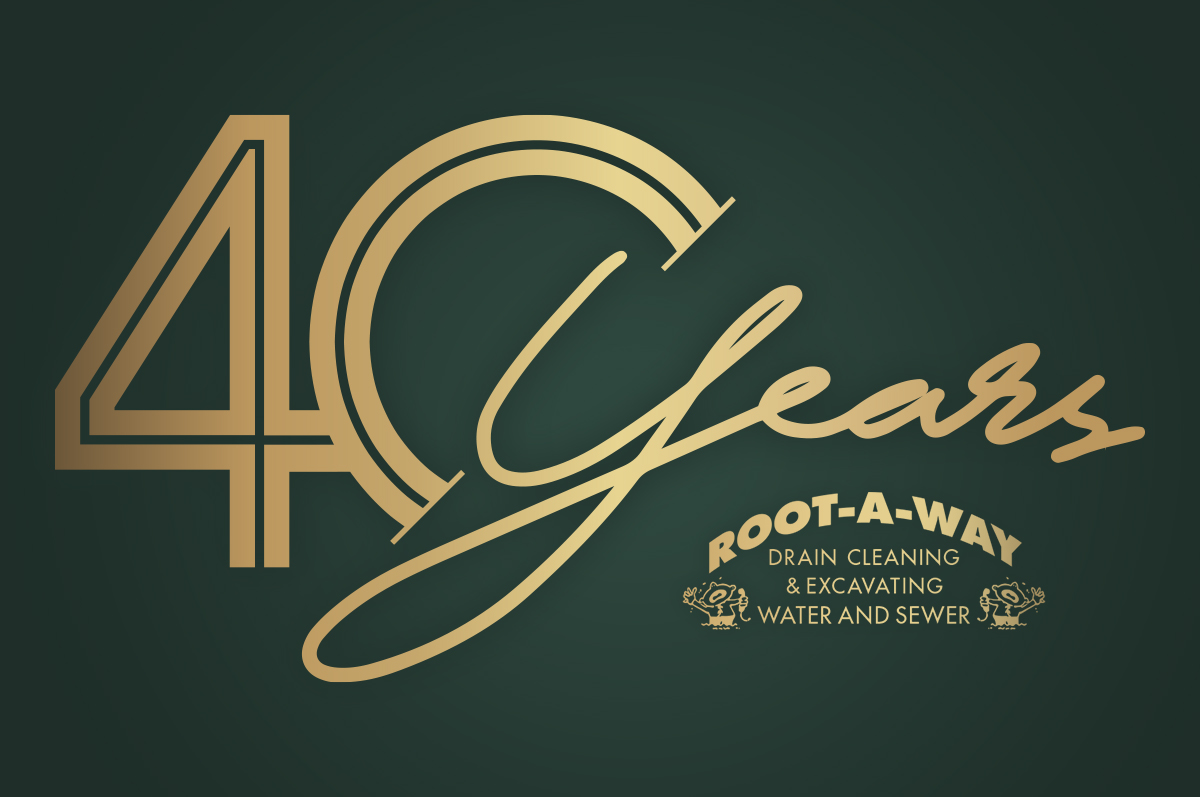 Our experienced team at ROOT-A-WAY Drain Cleaning is delighted to commemorate 40 glorious years of dedicated service to our own and surrounding communities. This year marks four full decades of our incredible support. That's four decades of drain cleanings, sewer repairs, plumbing solutions, and guaranteed peace of mind for countless home and business owners just like you. We only hope we can continue offering our superior services for many more years to come.
It is a true joy and honor to have the opportunity to humbly serve the proud and hardworking owners of all the homes and popular businesses that make up our shared home region. Protecting your property with our audacious collection of versatile services is why ROOT-A-WAY Drain Cleaning exists! Our sewer and drain professionals aim only to be your trusted partner as you continue to protect your family and promote the success of your many professional ventures.
Like always, ROOT-A-WAY Drain Cleaning is always here to help you handle whatever sewer and drain frustrations and hazards might come your way. We have always provided exemplary drain cleaning solutions for even the most backed-up pipes, sewer and water line repairs/support, sewer camera inspections, septic tank pumping services, and so much more for residential, multi-family, industrial, and standard commercial properties. We encourage you to put our skills and reputation to the test so you can witness for yourself the depth of our dedication. You'll see that our commitment to our client's satisfaction hasn't changed in 40 years, and it won't anytime soon.
Trust is the foundation of any good relationship with a service provider. We offer the transparent services and reliable support we do because we understand how crucial honesty and integrity are. Your property, whether it's your home or business, is one of the most valuable assets you will ever own. You owe it to yourself and anyone else inhabiting the property to trust the right people to help you take proper care of it. Don't worry. With our sewer and drain professionals at ROOT-A-WAY Drain Cleaning by your side, you'll have all the help you'll ever need.
ROOT-A-WAY Drain Cleaning may be overjoyed to celebrate 40 years of dedicated service to our community, but we know we would be nothing without the incredible property owners who trust our service every day. It is because of our remarkable clientele and their kind testimonials that our services help so many people. Want to be one of them? Get in touch with one of our welcoming sewer and drain professionals at ROOT-A-WAY Drain Cleaning by calling (810) 233-4376 to schedule service, or simply fill out the form in the sidebar.