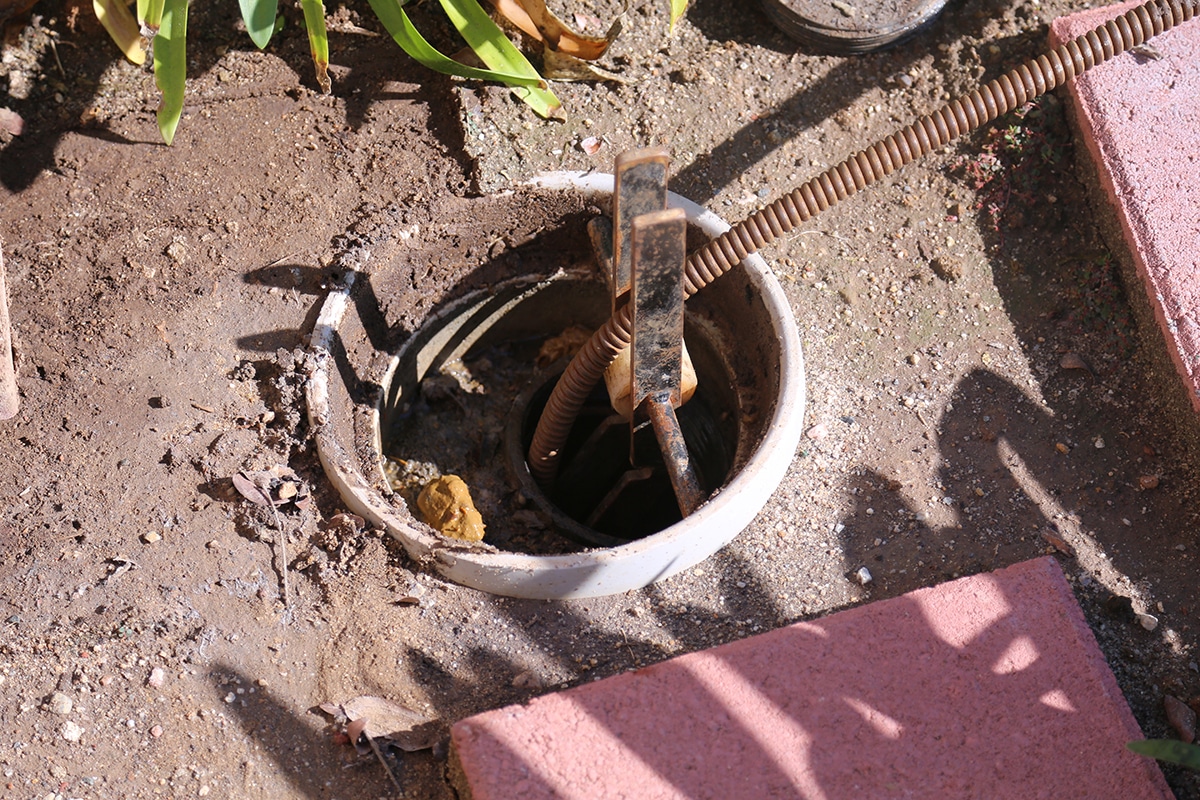 When it comes to clearing out tough clogs in your main sewer line quickly and effectively, there are really only three types of methods to choose from. Hydraulic sewer cleaning methods that depend on the use of pressurized water to get rid of blockages, like our professional hydro jetting services. Mechanical sewer cleaning methods rely on tools and machines that forcibly chip away at clogs until they're gone. And chemical sewer cleaning solutions dependent on strong, and sometimes even harmful, chemical products to loosen clogs so they can be flushed out. However, there are plenty of tricks you can use at home to achieve similar results to these professional approaches.
The Hanger Trick
Regular wire hangers are perfect for breaking up clogs that aren't too deep down inside your sewer lines. Simply straighten one out, leaving a nice curved hook on the end, and feed it slowly down into your drain until you feel resistance. Try to then use the hook to scrape at the clog to see if you can pull it out, taking care not to accidentally shove the clog even deeper. Flush the line with hot water when you feel the clog has been safely removed.
Vinegar & Baking Soda
Vinegar and baking soda is age-old cleaning solution that can naturally dissolve grease, dirt, debris, and more with ease while simultaneously neutralizing odors. All you need is a third of a cup of each, then combine them and immediately pour the bubbly mixture down the affected drain. Let the mixture work its magic for at least an hour and then flush away what's left of the clog with boiling hot water. If the clog is in your bath and the mixture isn't enough, you can add water pressure to this method by forcing excess water into the drain while using a drain snake or plunger to help dislodge particularly difficult clogs.
Wet/Dry Vacuums
If you've got a wet and dry vacuum, you might be pleased to know it's a great tool for unclogging blocked up sewer lines. Simply create a tight seal over your main sewer line drain, cover the vent to avoid any mishaps, set your system to "liquids," and start sucking out all the gunk you can. If at first things still seem a bit stuck, try the hanger trick first to break the clog up and then try again.
Plain Boiling Water
You'd be surprised what just a little boiling water can do. If your clog is a result of a buildup of grease and grime, boiling water can quickly melt it away, and it's super easy. Just get as much boiling water together as you can, and pour is slowly and steadily down the drain so it can really penetrate the clog and flush it away.
Caustic Soda
If the ease of the baking soda and vinegar method appealed to you, but you think you might need something stronger, caustic soda may be a good alternative. So long as you're careful, and wear proper protective gloves and goggles to prevent serious chemical burns when mixing your solution of 15 liters of water for every 3 cups of caustic soda you use, it should work seamlessly. When your concoction begins to bubble, pour it right down the drain like you did with the vinegar solution and then wait a half hour before flushing it all away with boiling water.
Cleaning The Pipe By Hand
If your clog is located in the flex pipe under your sink, you're in luck. Most of the time these clogs can easily be removed by hand simply by detaching that small section of obstructed flex pipe and using some sort of brush to scrub your clog away. Just make sure you put a bucket underneath to catch the water or debris that will likely fall out, and flush out the pipe with hot water before reattaching it to ensure you removed all of the clog.
Drain Snakes
Drain snakes are specially designed tools that are slender and flexible enough to navigate even the narrowest pipes, yet strong enough to grab hold of and forcibly remove stubborn clogs. Like with the hanger, all you need to do is feed the end of the drain snake into the pipe and turn the handle. Once the clog is reached, you can just rotate and remove!
Baking Soda & Salt
Interested in a potent chemical reaction that doesn't put you at so much risk? Try a 1:2 ratio of salt and baking soda. The reaction these two ingredients cause is strong enough to unclog just about any drain, all without any threats of chemical burns or other dangers for you. Just mix, pour down the drain, leave alone for several hours, and then finish off with some boiling water.
Dish Soap
Dish soap is designed specifically to break down stubborn grease and stuck on food, which means it can be just as effective at clearing away persistent clogs in your main sewer line as well. All you need is a good quarter cup of dish soap poured straight into your affected drain, add a little boiling water to help break down the muck, and then try your plunger or other mechanical method again. Keep adding hot water and manually removing the clog until it's all gone.
Call In A Professional
When all else fails and you can't clear out your main sewer line as well as you'd like, you can always call on our professional sewer line maintenance and repair specialists at ROOT-A-WAY Drain Cleaning. We have the tools and resources to locate and eradicate any type of clog that could be causing you trouble! Call us today at (810) 233-4376 to schedule service, or simply fill out the form in the sidebar.