Are you looking for sewer line repair Goodrich MI?
Starting to think your sewer line might need some salvaging before it's too late and your family or business starts paying the price? Contact our reputable sewer line repair professionals at ROOT-A-WAY Drain Cleaning. Our seasoned sewer line repair technicians can protect your residential, multi-family, commercial, or industrial property from leaks, constant clogs, foul odors, excess greywater, toxic backflow, hazardous biological growth, and other severe symptoms of sewer line issues by effectively locating and repairing the root cause of the problem. Our sewer line repair technicians can do this by cleaning out your drains, performing sewer camera inspections to locate cracks or damage, excavating, or whatever else may be necessary to restore your plumbing as quickly and cost-effectively as possible. And don't worry, our commercial-grade drain augers, high-definition sewer cameras, and industry-leading hydro jetting systems are all top-of-the-line. If there's one thing that we know about keeping our clients in Goodrich satisfied, it's that merely having 50+ years of combine drain cleaning and sewer line repair experience isn't enough. You deserve to have support in your life that you can count on, no matter what, from drain cleaning and sewer line repair professionals who will always go out of their way to make sure you get what you need. You deserve ROOT-A-WAY Drain Cleaning!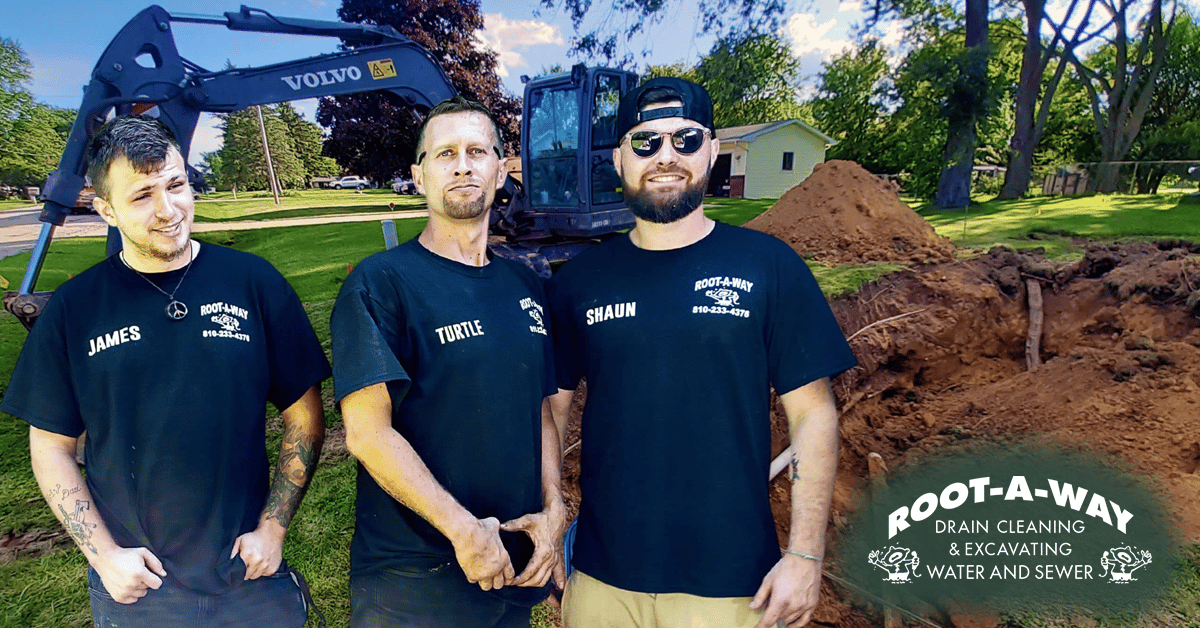 Sewer Line Repair Goodrich MI
After all, home and business owners seeking professional sewer line repair in Goodrich, MI, trust ROOT-A-WAY Drain Cleaning for a reason! Of course, smaller towns and cities like Goodrich usually do. Our hands-on support and dedication to providing excellent, reliable services are especially valuable to residents in charming smaller communities, like Goodrich. Unlike so many service providers in larger cities surrounding Goodrich, you can actually trust us to always act in your best interest rather than our own. We understand the importance of keeping your family safe and protecting the reputation of your business in Goodrich. And most importantly, we understand how easy it is to let other important things you have going on overshadow the health of your plumbing. It's why our comprehensive services are here, to help you handle all the things around your home or business in Goodrich that you don't have the time or skills to do on your own, like intensive drain cleaning and invasive sewer line repairs. All you've got to do is get ahold of ROOT-A-WAY Drain Cleaning, tell our experienced drain and sewer cleaning and water line and sewer line repair specialists more about your beautiful home or business in Goodrich, and we assure you we'll be on our way!
If you are looking for experienced and top-rated sewer line repair Goodrich MI, call ROOT-A-WAY Drain Cleaning today at (810) 233-4376 to schedule service, or simply fill out the form below:
Schedule Service Today!
"*" indicates required fields