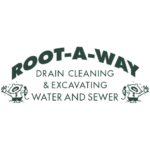 Website ROOT-A-WAY Drain Cleaning
Drain Cleaning & Excavation, Water & Sewer
The primary function of a Drain Cleaner is to deliver excellent drain cleaning service to customers while representing ROOT-A-WAY Drain Cleaning professionally and courteously. Drain cleaning service includes using video inspection devices to inspect the interior of drain lines and identify points of concern. In addition, hydro jet or mechanical drain cleaning equipment will need to perform preventative maintenance on drain lines or clear clogged drain lines.
During service execution, the Drain Cleaner will be responsible for complying with all DOT, state regulations, and ROOT-A-WAY Drain Cleaning safety and compliance policies. In addition, the Drain Cleaner is responsible for complying with all customer and company-related requirements.
ROOT-A-WAY Drain Cleaning
4101 Circle Dr.
Flint, MI 48507
Diagnose standard and diverse drain issues and emergencies.
General drain cleaning, including the preventative maintenance or clearing of clogged lines utilizing mechanical drain cleaning tools.
Maintain clean working areas on every job.
Document all work performed.
Maintain a clean service vehicle inside & out with proper stock, tools, and safety equipment in a company vehicle.
Provide customers with 5-star professional and courteous service.
Communicate problems, propose solutions.
Always work in a safe and compliant manner adhering to all safety and compliance rules and regulations.
While driving or performing service, represent the Company professionally and courteously.
Must collect, fill out and keep in good order all required paperwork each day.
Maintain a good driving record for personal and professional driving.
Maintain a current valid driver's license.
Complete required safety training.
Available for on-call rotation as needed.
Other duties as assigned.
Requirements
Must have valid drivers license.
Other Duties
Please note this job description is not designed to cover or contain a comprehensive listing of activities, duties, or responsibilities required of the employee for this job. In addition, duties, obligations, and activities may change at any time with or without notice.
Are you looking for a steady schedule that allows you to be home every day? Are you results-driven? If so, ROOT-A-WAY Drain Cleaning is looking for a team member like you!
Who you are
Professional appearance and excellent customer service skills
High School diploma or equivalent
Team player with a positive, professional attitude
Flexible attitude and mindset
Proficient written and verbal communication skills
Sense of urgency and efficient service
Who we are
ROOT-A-WAY Drain Cleaning is an industry leading plumbing services provider offering fast, friendly drain, sewage, and septic services to residential, commercial, industrial, and multi-family property owners throughout Genesee County; and exclusively commercial property owners in the surrounding counties. In total, our reliable services have been helping people keep everything running smoothly in their homes and businesses for 40 years.